NCR, India, March 12, 2020
Press Release
81% of Indian mobile users are on 4G networks: MoMAGIC Survey 2020
March 12, New Delhi NCR: A significant 81% of the respondents surveyed were using 4G phones, followed by 3G and 2G at 6% with India having one of the lowest 4G networks mobile data prices in the world as of now; many more Indians are now using 4G speeds for their mobile internet consumptions.
Interestingly, in the survey conducted in 2017 October, only 56% of the respondents were using 4G phones, and a substantial 34% were using 3G, of which many have now moved to 4G mobile speeds due to its affordability, networks reach and cheaper mobile phones now supporting 4G networks.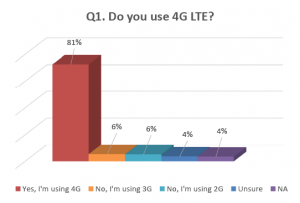 "4G Mobile Internet penetration in India has happened at a breath-taking pace and we expect over 90% of Indian users to be on 4G network by end of 2020. This has led to major video data consumption on mobile phones by Indians which has made top OTT players of the world including Netflix, Amazon Prime Video, Hotstar, Zee5, Voot, Sony Liv and MX Player etc. to extensively focus on this segment," said Mr. Arun Gupta, Founder & CEO of MoMAGIC Technologies.
The Mobile Phone survey report 2020 based, on 9,011 respondents in India, released, recently by MoMAGIC Technologies, an IOT solutions and Mobile Ad Tech, Datascience company; the question on mobile phone pricing and the buying patterns, across India- the survey data reflected that 30% of the buyers paid between Rs 8,500- Rs 14,999 for their phones, which is a sweet spot for many Chinese companies to launch their phones in India.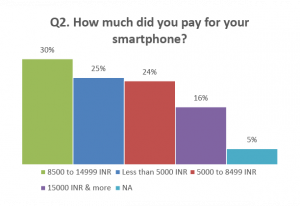 Moreover, 51% of people surveyed said they want better battery capacity in their mobile phones indicating that most of the mobile phones in the market including several flagship phones, still need to work on the battery capacity and people expectation.
"Battery is still an issue for all mobile phone users in India as mobile phone manufacturers are still working on this aspect. Even with fast chargers and bigger battery sizes, this aspect is still a pain point for majority of phone users," Mr. Gupta added.
This is a jump of 7 percentage basis points from the previous survey done in 2018, which showed 44% of the people surveyed were looking for better battery capacity.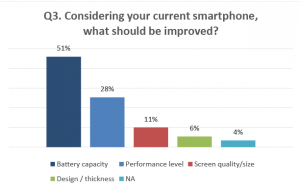 Survey also indicated that even with the lowest mobile data costs in India, 49% of the respondents limit their mobile data and just 15% of the respondents said they do not monitor and limit their mobile data use. In the previous report, 41% of the respondents limit their data.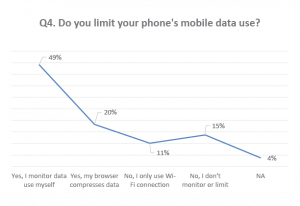 Other key findings of the survey
• 32% of the respondents said the main factor for choosing their phone was the processors brand followed by camera quality at 31%
• Half of the respondents said that they use their mobile phone camera few times a day and only 10% of them said they use their camera few times a year.
• 37% of the respondents said they plan to buy a new mobile phone as soon as their current phone is one year old.
• Network with friends on social media was the top use of their mobile phone at 34% followed by using their phone for email and messaging at 24%.
• Surprisingly, 40% of the respondents said that they believe the smartphone screen should be between 5-5.9 inches, while only 18% said that screen size should be more than 6 inches.
• 32% of the mobile phone buyers surveyed said they choose their mobile phones after searching online for phone reviews.
• 35% of the respondents said that their current phone battery size is over 4,000 mAh.
About MoMAGIC
MoMAGIC Technologies Pvt. Ltd., founded in 2011, is a data science driven Technology Company having its presence across South East Asia.
Promoted by MediaTek (Asia's largest IC design company) and Foxconn (the world's largest high-tech manufacturer), MoMAGIC is counted amongst the leading Indian companies in the digital and mobile marketing space.
MoMAGIC's IOT solution for Enterprise market adds to its 'business intelligence' and 'mobile adtech' offerings.
MoMAGIC TrueWave, the smart IOT platform delivers embedded communication modules covering universal connectivity technologies from Low Energy Bluetooth to Narrow Band and SigFox, enabling any device for seamless connectivity to the Internet. Offers flexibility of engagement at all three verticals (Module, Application and Analytics) for enterprise IOT market. And the MoMAGIC platform -TrueReach (DSP&SSP) provides access to brand-safe; premium programmatic inventory on a global scale & TrueInsight (DMP) brings in deep USER Insight – Contextual Analytics. Empowers every business to turn (data) insights into business intelligence (deep USER insights), especially for marketers and digital media heads to make sense of the mountain of CRM, site and app data and use it for user engagement with the brand and thereby growth and monetization.
MoMAGIC has been consistently investing in R&D and business expansion. Setting up the APAC R&D and Business Operation Centre in Taipei, Taiwan in 2017, was a significant step in the said direction. MoMAGIC has driven some of the most outstanding Mobile Advertising campaigns for leading brands launching into India, e-commerce ventures and worked with leading media houses.
Contact Details:
Shivani Srivastava – shivani.srivastava@momagic.com – 9810549501
***