New Delhi NCR, April 1, 2020
For Immediate Release
68% of Indians are wearing masks outside as prevention from Corona virus&
75% people are aware about the symptoms: MoMAGIC Survey
April 01 2020, New Delhi NCR: A significant 68% of the respondents surveyed said that they are wearing masks as a preventive measure to stop the spread of Corona virus infection in India with 29% of the respondents still going out of their homes without any mask.
As central and state governments have been coming out with many messages on mobile phones, newspapers, social media websites, radio, instant messaging services and community outreach, 85% of the respondents said they are aware of the Corona Virus and the precautions to take.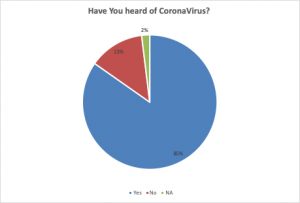 The Corona virus survey via mChamp app; based on 4,798 respondents in India, released by MoMAGIC Technologies, an IOT solutions and Mobile Ad Tech, Data science company was conducted, to see trends on awareness, impact and preparedness by Indians. This survey was done between 7th to 28th March 2020.
"The COVID-19 pandemic has shaken the world's ecosystem, with all nations, completely unprepared to tackle the situation. In India, the government initiated various measures, even when the infection numbers were low and more recently the complete lockdown was announced. The survey indicates, that most Indians, across: tier 1 & II & III cities, started following government guidelines and are fairly aware of the pandemic -the virus infection and its far fetching impact," said Mr. Arun Gupta, Founder & CEO of MoMAGIC Technologies.
When asked about if the respondents are scared of the virus, 48% of the respondents said they are scared but are following basic protective measures like social distancing, washing hands regularly and wearing masks when going out to buy essentials or for an emergency.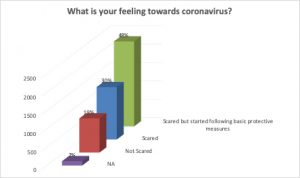 Fortunately, 75% of the respondents also said that they are aware of the precautions they have to take if they experience any symptoms of the virus including dry cough and fever etc.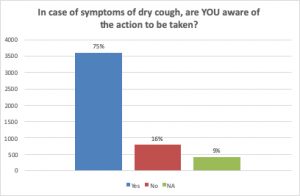 Also, as India has gone into a 21-day lockdown till April 14, 63% of the respondents said their daily routine or business has been impacted due to the restriction in place to stop the spread of the virus infection.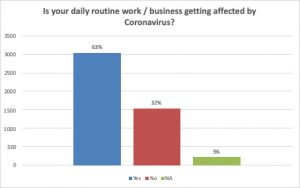 About MoMAGIC
MoMAGIC Technologies Pvt. Ltd., founded in 2011, is a data science driven Technology Company having its presence across South East Asia.
Promoted by MediaTek (Asia's largest IC design company) and Foxconn (the world's largest high-tech manufacturer), MoMAGIC is counted amongst the leading Indian companies in the digital and mobile marketing space.
MoMAGIC's IOT solution for the Enterprise market adds to its 'business intelligence' and 'mobile ad tech' offerings.
MoMAGICTrueWave, the smart IOT platform delivers embedded communication modules covering universal connectivity technologies from Low Energy Bluetooth to Narrow Band and SigFox, enabling any device for seamless connectivity to the Internet. Offers flexibility of engagement at all three verticals (Module, Application and Analytics) for enterprise IOT market. And the MoMAGIC platform – TrueReach (DSP&SSP) provides access to brand-safe; premium programmatic inventory on a global scale &TrueInsight (DMP) brings in deep USER Insight -Contextual Analytics. Empowers every business to turn (data) insights into business intelligence (deep USER insights), especially for marketers and digital media heads to make sense of the mountain of CRM, site and app data and use it for user engagement with the brand and thereby growth and monetization.
MoMAGIC has been consistently investing in R&D and business expansion. Setting up the APAC R&D and Business Operation Centre in Taipei, Taiwan in 2017, was a significant step in the said direction. MoMAGIC has driven some of the most outstanding Mobile Advertising campaigns for leading brands launching into India, e-commerce ventures and worked with leading media houses.
***
Contact Details:
MoMAGIC Technologies
Shivani Srivastava – shivani.srivastava@momagic.com – 9810549501
***