NCR, India, December 20, 2019
Press Release
Mobile ads influence 70% of the Indians in their buying decisions:
MoMAGIC Survey
National Capital Region, India, December 20, 2019: Mobile advertising in India has been making major inroads in the past couple of years and 70% of mobile phone users agree that they were influenced in their buying decisions after seeing a video or a text ad, as per the survey on Mobile Advertising & End User Trends in India- 2019.
The survey by MoMAGIC on mChamp entertainment, a free to play trivia app with exciting prizes to win, was conducted for over a period of 2 months (October 10 -December 10 2019) with around 4,749 respondents (unique numbers) participating across India. Survey insights help understand better on preferences and mind set of Indian consumers vis-à-vis mobile advertising in India.
89% of the respondents replied in the affirmative to the question of seeing an ad on mobiles phones in the recent past, indicating the reach of mobile advertising in India. (Chart 1-2)


"Mobile advertising is becoming more and more mainstream with significant number of Indian consumers viewing ads on their mobile phones. We believe new and exciting ways of user experience will be the deciding factor for the success of any mobile advertising campaign, other than the content and localization. Video ads, with regionalised approach would gain more traction, ensuring better engagement right call to action," said Mr. Arun Gupta, CEO and Founder MoMAGIC Technologies.
The survey further showed that 24% of Indians have seen maximum ads, text/video, on their mobile phones on popular social media sites followed by mobile games and e-commerce apps/sites at 14%.
With video consumption on mobile phones at an all-time high and still growing at a breath-taking pace, 10% of the respondents also saw ads on video aggregator/creators apps and website on their mobile phones. (Chart 3)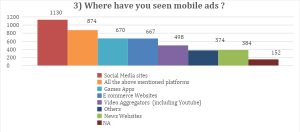 A new trend among video content is the vertical format. 35% of the respondents stated that they prefer to watch video ads in a vertical format where as 58% still prefer to watch horizontally. (Chart 4)

Most of the respondents surveyed, were not happy with the user experience of mobile ads currently they see. 72% of the respondents are looking for a better user experience for mobile ads. (Chart 5)

Indian language Punjabi has seen maximum traction among major Indian regional languages with 17% of the respondents stating to see ads in Punjabi language the most, as per the survey conducted among mobile phone users. Bengali came at second position with 9% followed by Telgu and Marathi at 7%. Mobile ads in Urdu were at just 2%. (Chart 6)
The survey question was intended for major vernacular language mobile ads sans English and Hindi. 51% of the respondents chose others as their answer (Due to plethora of other regional languages in India). In the scope of this survey, only 6 languages were chosen.

***
About MoMAGIC Technologies:
MoMAGIC Technologies Pvt. Ltd., founded in the year 2011, is a data science driven Technology Company. Counted amongst the leading Indian companies in the digital and mobile marketing space, MoMAGIC is geared towards expansion as 'business intelligence' focused Mobile AdTech global company' and IOT solutions for Enterprise IOT market.
Headquartered in NCR (national capital region), India, and with strategic investments from two technological giants, MediaTek (Asia's largest IC design company) and Foxconn (the world's largest high-tech manufacturer), the company facilitates brands-Ad agencies acquire quality users and drive effective revenue growth with customized Data modelling (Deep User insight and Precise ad delivery) with its programmatic platform.
The MoMAGIC IOT platform delivers embedded communication modules covering universal connectivity technologies from Low Energy Bluetooth to Narrow Band and SigFox, enabling any device for seamless connectivity to the Internet. Offers flexibility of engagement at all three verticals (Module, Application and Analytics) for enterprise IOT market
MoMAGIC has been consistently investing in R&D and business expansion. Setting up the APAC R&D and Business Operation Centre in Taipei, Taiwan in February2017, was a significant step in the said direction. MoMAGIC has driven some of the most outstanding Mobile Advertising campaigns for leading brands launching into India, e-commerce ventures and worked with leading media houses.